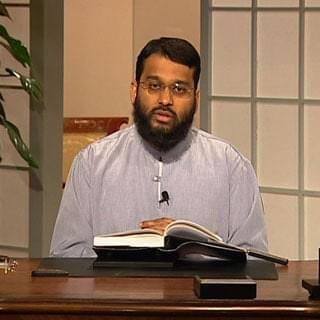 Yasir Qadhi is a prolific American Muslim author and Islamic teacher, who has written several books about Islam. He is a popular speaker in many Muslim circles in the United States, Canada, England, and Australia. His lectures at different locations can be found on YouTube. He is one of the few people who has combined an Islamic seminary training (from Islamic University of Madinah) with Western education (from Yale University).

Qadhi was born in Houston, Texas, to Pakistani parents, in 1975, went to high school in Jeddah, Saudi Arabia, graduating valedictorian of his class, and completed a Bachelor of Science in Chemical Engineering from the University of Houston. After working for Dow Chemical for a short stint, he decided to pursue an education in Islamic studies, and left for the Islamic University of Madinah. There, he completed a second bachelor's degree, specializing in hadith studies, and then went on to complete an M.A. in Theology. Presently, he is completing his doctorate in Islamic studies at Yale University in New Haven, Connecticut.
He is the Dean of Academic Affairs in the Almaghrib Institute, one of the largest Islamic educational institutes in the Western world. He appears on a number of Islamic satellite channels (Islam Channel in England; Huda TV Channel in Egypt; Al-Fajr Channel in Egypt; and Peace TV in India, U.K and U.S), where he teaches theology, Seerah, Tajweed, and other topics. He gives regular sermons and lectures. He also one of the founding members and lead Islamic specialists at MuslimMatters.org, a leading blogzine for Western Muslims. He is also involved with a government deradicalization program and has publicly stated his intent to help conservative Muslims integrate in the Western societies.